Come see our NEW Service and Parts Facility:
2401 N Mays St, Suite 100, Round Rock, TX 78665
(Click address above for directions.)
(Click image above to schedule service.)
Please call us or click on the link above to schedule your appointment online. Express Service Monday through Saturday is still accepting walk-ins.
Don't forget you can always call us at 888-710-3684 during work hours and we will promptly schedule your service for you.
Just have a question? Would you like to speak to a tech? You can email Kathy Brigance, our Service Manager, and she will take care of all of your needs.
From the very moment you contact Round Rock Honda for a service appointment until the time you leave the dealership after your service visit, Round Rock Honda's Service Department is committed to making your experience a pleasant one.
Our service department features a unique, climate-controlled indoor service drop-off and pick-up area. High-speed automatically-opening doors sense your arrival. Simply drive right in and you will be greeted by friendly valets who will take your vehicle and guide you to an available Service Advisor to write up your repair order. Your vehicle is in good hands. Our 32 service bays are staffed by Honda factory-trained technicians and surrounded by state-of-the-art equipment to properly and efficiently service and repair your vehicle.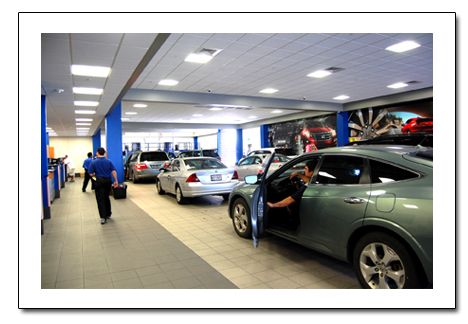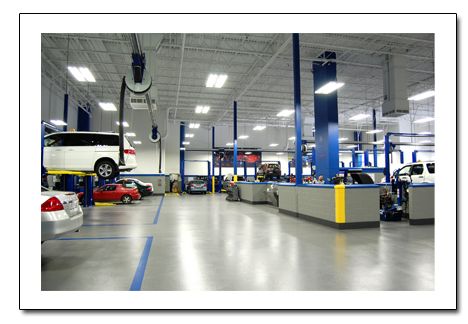 At Round Rock Honda, we've spared no effort in an attempt to create a relaxed, comfortable setting for your automobile shopping and servicing needs. Within our open-design service center you will find numerous amenities which include a guest lounge with plenty of seating, and a refreshment bar. We also provide free WIFI & Internet service, allowing you to work, schedule appointments or surf the web while visiting our dealership.
Here's what some of our customers are saying about us:
Luis D 2/2/2012
I brought my 2007 accord in for an all-wheel alignment after I received a coupon in the mail. I am not one to bring my cars back to dealerships, but this time I'm impressed. The RR Honda Service Department is huge, clean, organized and the waiting area is comfortable. They even have a lovely girl baking cookies. They have really put a lot of effort into this operation and it is working, I'm a fan.
NanaBanana 12/25/11
I hesitated to take my car to this dealership because of all the bad ratings. If it were possible, I would award this dealership 10 stars...my hybrid car had a malfunctioning IMS battery. Within 24 hours, the problem had been diagnosed, a new battery ordered and received and installed. All for free. All with extreme friendliness and courtesy. Do not hesitate to use this service!
Hal B - Round Rock, TX
I started a new sales job and needed to purchase a work vehicle right away. I did no research or shopping. My wife and I walked in to Round Rock Honda and we had the pleasure of working with salesman Matt Alpers. Matt asked me what my vehicle needs were. I said that I needed something that was inexpensive and got good fuel economy. Matt showed me a 2012 Honda Fit. He said that they had it in an automatic or manual transmission and in two different blue colors. I test drove the automatic in blue/green and I was very impressed with Matt and the car. Matt never pressured me to buy the car and really put us at ease. I asked Matt what I needed to do to buy the car and he said to fill out a credit application. The buying process could not have been easier. I purchased the car at the same price as someone who shopped for an entire year. At time of delivery Matt went over every little detail of the Fit to make sure I was comfortable with all the many features. With 700 miles on the odometer we drove from Round Rock, TX to Tucson, Arizona which is 950 miles or 15 hours. With three adults, a dog and Christmas presents we could not believe how comfortable the Fit was, how quiet it was, how solid it felt, and we averaged 33 mpg at 80 mph with the engine not broken in yet. I have never heard a stereo sound as good as the one in my Fit. The sound is rich and beautiful. I could not be happier with my buying experience at Round Rock Honda, with Matt Alpers or our new Fit.
P.S. Sales manager Curtis Salter was so kind and helpful.
Come on in to Round Rock Honda and discover why we say "Our Prices Bring You In. Our Service Brings You BACK!"